Sand Spring Advisors LLC
GE Equals 1936-37 Dow Jones
June 1, 2001
by,
Barclay T. Leib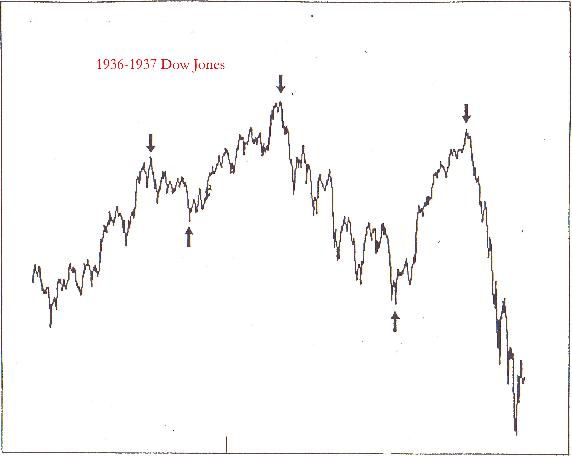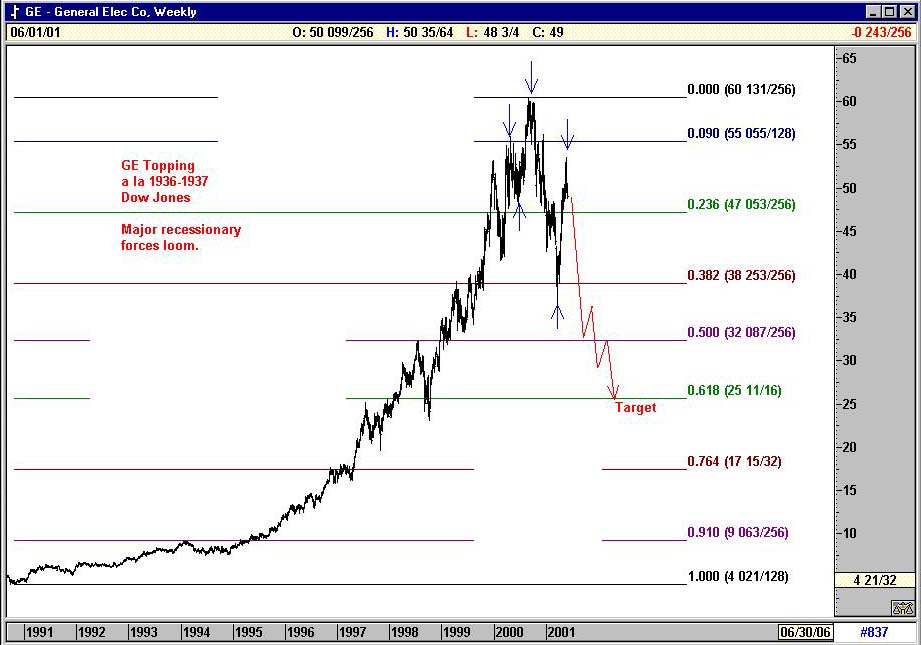 Chart produced using Advanced GET End-of-Day
The scales of the two charts above are somewhat different, but we believe that stalwart stock GE -- voted the number #1 most admired corporation by Time magazine last year -- is set for a significant and steady tumble. It will thereby join Time's #2 and #4 most highly regarded corporations of 2000 Cisco and Intel already in the sewer. (The #3 most highly regarded corporation is Microsoft, currently half the way to the sewer).
This move will be indicative of a strong recessionary wave about to finally hit home on the average American. The consumer is already tapped out per the recent behavior of retail sales shown below, and unemployment is shooting higher. This will be a deadly combination for the average over-leveraged American.
Chart courtesy of the ISI Group as shown on GrantsInvestor.com
And GE -- part consumer-oriented company, part manufacturing bohemoth, part leveraged finance company (cum hedge-fund) is going to finally fall from grace.
With time, we see prior support in the mid-30's for GE giving way to a $25 target.
All of this will likely cause a temporary flight into fixed income. Whether this is justified or not longer term, we doubt, but we would not want to fight that market for now.
Gold has recently shot its bolt in typical late-cycle fashion as the very last equity group to rally...and looks to now be failing miserably. Longer term, we'll eventually get back into the metals once again since stagflationary pressures truly exist, but for now sell your GE, and buy 3-year notes (or better yet, buy a solid non-directional fund of funds). If going short GE, work with stops set above $56.
All this looks likely to get quite ugly quite fast.
---
All contents are Copyright © 2001 by Sand Spring Advisors, LLC, Morristown, NJ
---
Send us your comments at information@Sandspring.com.
AN IMPORTANT DISCLOSURE
Sand Spring Advisors provides information and analysis from sources and using methods it believes reliable, but cannot accept responsibility for any trading losses that may be incurred as a result of our analysis. Our advice should be deemed our personal opinion and not a recommendation to invest. Individuals should consult with their broker and personal financial advisors before engaging in any trading activities, and should always trade at a position size level well within their financial condition. Principals of Sand Spring Advisors may carry positions in securities or futures discussed, but as a matter of policy we will always so disclose this fact if it is indeed the case. We will also specifically not trade in any described security or futures for a period 5 business days prior to or subsequent to a commentary being released on a given security or futures contract.
---
Take me back to the Sand Spring Home Page
---
Comments or Problems
---
Thank you for visiting Sand Spring Advisors LLC, Inc. We hope to hear from you again soon. For more information on Sand Spring Advisors actual programs, services, or to request a copy of a Disclosure Document, please phone us at 973 829 1962, FAX your request to 973 829 1962, or e-mail us at information@Sandspring.com

Corporate Office:
10 Jenks Road,
Morristown, NJ 07960
Phone: 973 829 1962
Facsimile: 973 829 1962

Best Experienced with



Click here to start.
The material located on this website is also the copyrighted work of Sand Spring Advisors LLC. No party may copy, distribute or prepare derivative works based on this material in any manner without the expressed permission of Sand Spring Advisors LLC
This page and all contents are Copyright © 2000 by Sand Spring Advisors, LLC, Morristown, NJ